Best Practice Guidelines: Healthcare Practice Management & POPIA Compliance Framework
Best Practice Guidelines: Healthcare Practice Management
&
POPIA Compliance Framework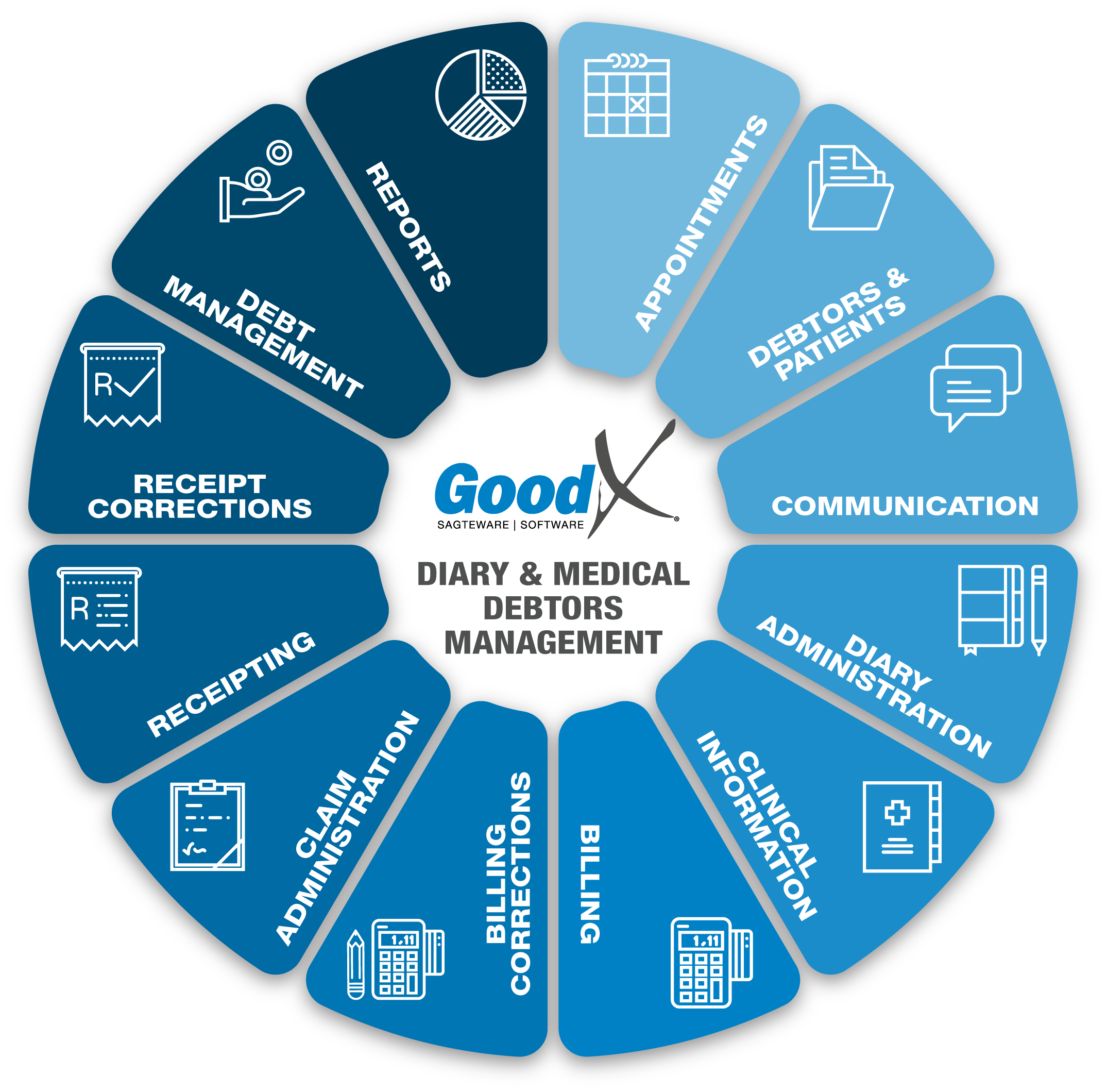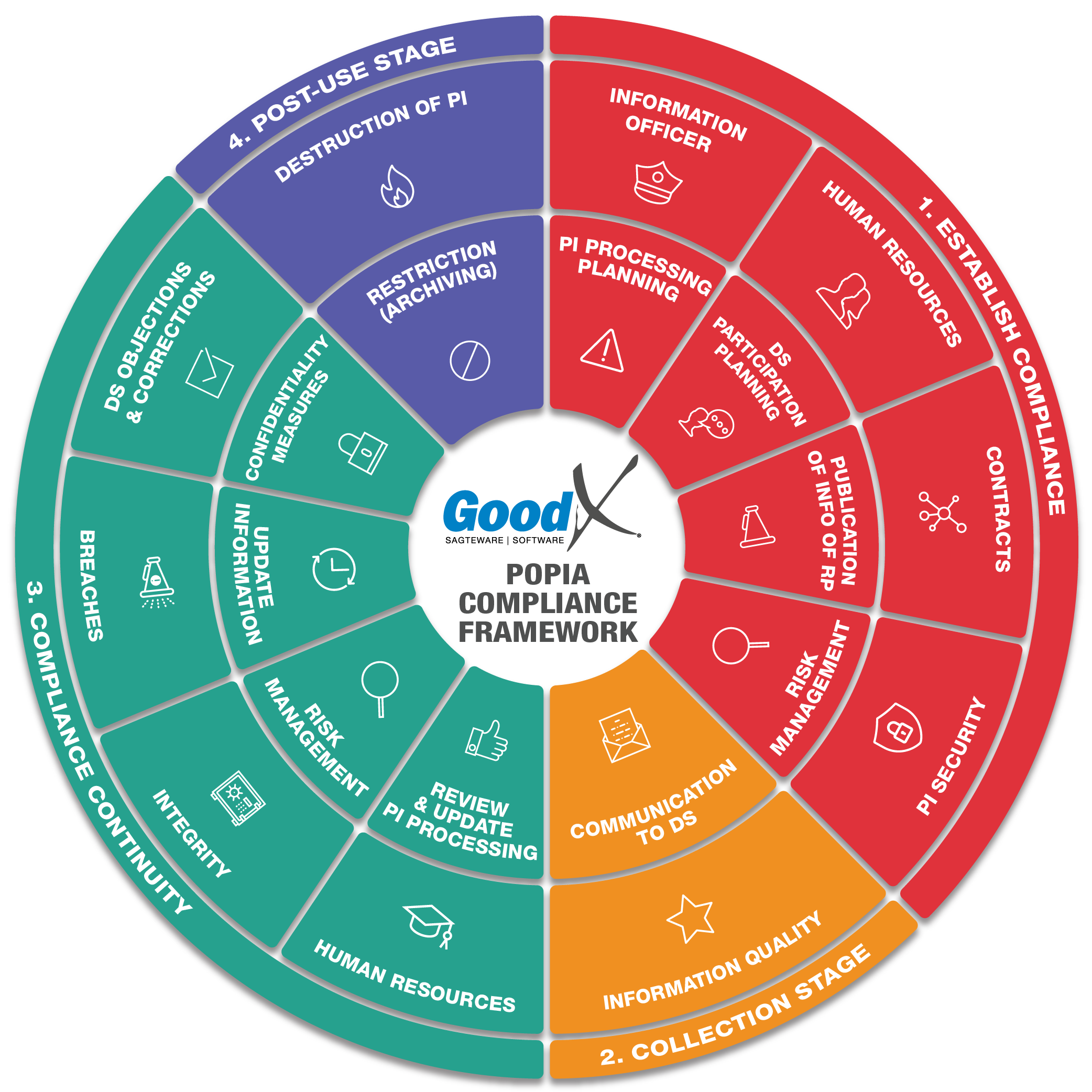 Copyright © 2021 GoodX Software. All rights reserved.
GoodX online Learning Centre
learning.goodx.co.za
1. Introduction to GoodX Software
1.4. Web App Roles & User Access
It is essential that users have defined roles and limited access to functions and information in the software system. Typically your owner will have full access, but other users will have limited access to tasks and information pertinent to one or more roles they fulfil in the practice.
GoodX Web App has predefined roles with predefined user access to make it easy for the practice to get going on the system without too much consultation. If users fulfil more than one role in the practice, more than one role can be linked to the user and all the user access capability will compound to give the user all the access rights that all the linked roles allow.

Take note that all users' access limitations can be designed according to the needs of the practice.
Users can log in to GoodX using:
A

fob

commonly called a

key fob. It

is a small security hardware device with built-in authentication used to control and secure access to mobile devices, computer systems, network services and data. The key fob displays a randomly generated access code, which changes periodically usually every 30 to 60 seconds. Users will first authenticate themselves on the key fob with a personal identification number (PIN), followed by the current code displayed on the device.

A unique username and password (that only the user know)

Facial recognition - our facial recognition system is a technology capable of matching a human face from a digital image or a video frame against a database of faces, typically employed to authenticate users through ID verification services, works by pinpointing and measuring facial features from a given image.
In the Web App:
Users can be linked to one or more Entities;
Users can be linked to one or more system Roles per Entity (the default roles are described below) and they can be directly linked to Groups. This means that one user can have different system roles/access for each entity.
Roles can be linked to one or more Groups, which are the basic system access items that provide access to functions/actions and information in the software.
Here follows an example of how Entities, Users, Roles and Groups (actions) can be linked in the Web App: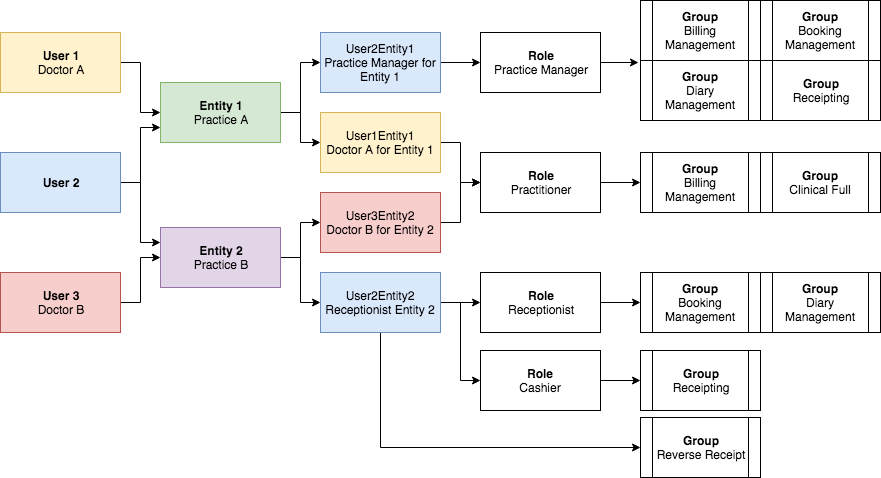 In this example, Doctor A and Doctor B have their own practices but share one reception area.
User 1:
Doctor A is working in Practice A as a Practitioner in Entity 1. His access is set to the Practitioner role.
User 3:
Doctor B is working in Practice B as a Practitioner in Entity 2. His access is set to the Practitioner role.
User 2:
User 2 works in the reception area. She fulfils the role of Practice Manager for Practice A with all the access available to fulfil her duties as a practice manager. However, she works only as Receptionist and Cashier for Practice B, with the added ability to reverse the receipts that she captures for her role as Cashier.
Default Web App Default Roles and their User Access
The following default Roles with their corresponding access can be linked to Users of the Web App (more than one role can be linked to a user):
Administrator


Administrator Invoice Post
Base User
Bed Management (Clinic/Hosp)
Billing Management
Booking Management
Case Management (Clinic/Hosp)
Cash Register Admin
Clinical
Clinical Assistant
Clinical Full
Credit Note
Debtor Patient Management
Diary Management
Doctor Management
Documents
Download Document Files
Edit ERA Header and Payments
Entity Management
Force Switch
Invoicing
Journal
Nurse Invoice
Receipting
Reporting
Reverse Receipts
Save Bookings
Save Cash Register
Site Admin
Supervisor Functions
Super User
System
System Admin
Task Assignment
User Entity Link Management
User Entity Settings
User Management
View Clinical Case




Practitioner

Administrator Invoice Post
Base User
Billing Management
Cash Register Admin
Clinical
Clinical Full
Credit Note
Debtor Patient Management
Diary Management
Documents
Download Document Files
Edit ERA Header and Payments
Force Switch
Invoicing
Journal
Receipting
Reporting
Reverse Receipts
Save Bookings
Save Cash Register
Site Admin
Supervisor Functions
System
Task Assignment
View Clinical Case







Practice Manager

Administrator Invoice Post
Base User
Billing Management
Booking Management
Cash Register Admin
Clinical
Clinical Full
Credit Note
Debtor Patient Management
Diary Management
Doctor Management
Documents
Download Document Files
Edit ERA Header and Payments
Entity Management
Force Switch
Invoicing
Journal
Receipting
Reporting
Reverse Receipts
Save Bookings
Save Cash Register
Site Admin
Supervisor Functions
System
Task Assignment
User Entity Link Management
User Entity Settings
User Management
View Clinical Case




Receptionist

Base User
Booking Management
Clinical Assistant
Debtor Patient Management
Diary Management
Documents
Download Document Files
Receipting
Reporting
Save Bookings
Save Cash Register
Task Assignment




Billing Expert

Administrator Invoice Post
Base User
Billing Management
Credit Note
Debtor Patient Management
Doctor Management
Documents
Download Document Files
Force Switch
Invoicing
Journal
Receipting
Reporting
Reverse Receipts
Task Assignment




Credit Controller

Administrator Invoice Post
Base User
Billing Management
Credit Note
Debtor Patient Management
Documents
Download Document Files
Edit ERA Header and Payments
Force Switch
Invoicing
Journal
Receipting
Reporting
Reverse Receipts
Task Assignment




Cashier

Base User
Debtor Patient Management
Download Document Files
Receipting
Reporting
Task Assignment




Stock Controller










Bookkeeper

Base User
Billing Management