Best Practice Guidelines: Healthcare Practice Management & POPIA Compliance Framework
Best Practice Guidelines: Healthcare Practice Management
&
POPIA Compliance Framework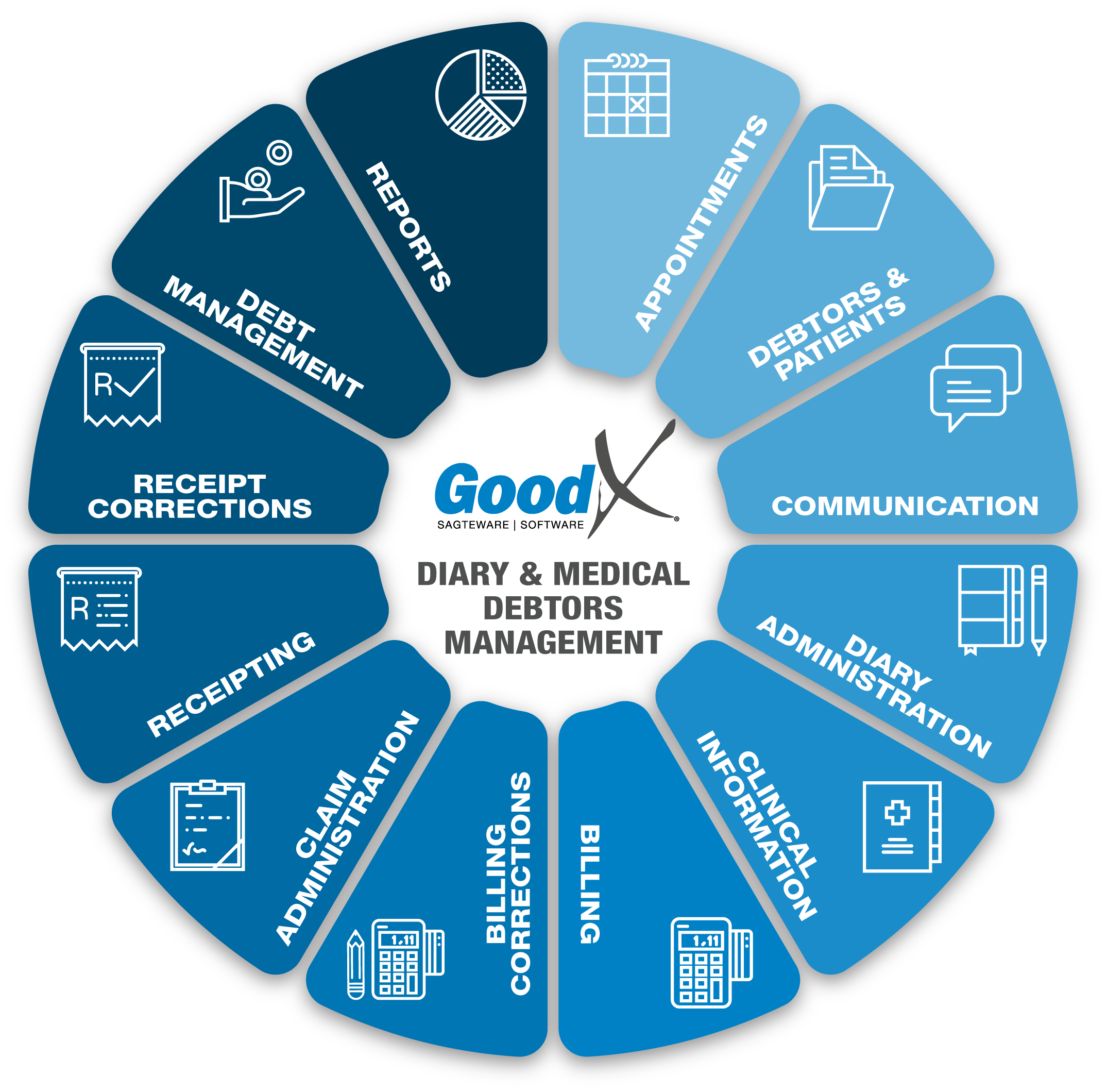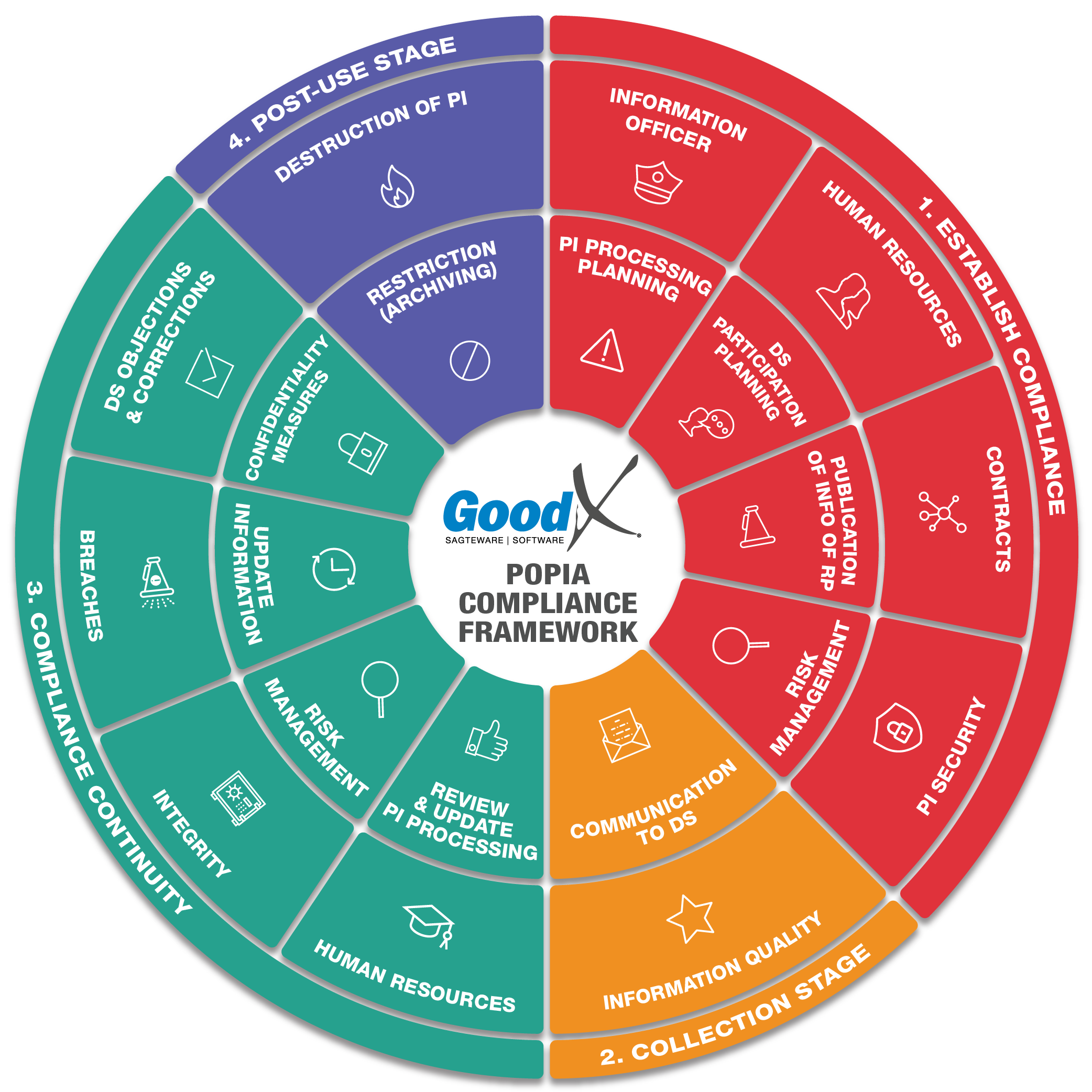 Copyright © 2021 GoodX Software. All rights reserved.
GoodX online Learning Centre
learning.goodx.co.za
7. Communication: Roles & Purpose
7.1. Communication Business Processes



x

Data Subject Participation Planning


The practice should communicate on their website OR posters at reception how Data Subjects can request information.

Requests must be sent to the Information Officer for processing according to the policy document.

Communication to Data Subject


If the practice wants to send marketing messages to Patients, the T&C of the practice should contain a clause in terms whereof patients accept marketing messages.

Since the POPIA's goal is not to stop normal legal communication, if personal information is collected and captured correctly, normal communication can continue.

Breaches


If a personal information breach has occurred by e.g. ransomware, the practice should communicate to patients and the Information Regulator that there has been a breach.
Communication to patients - see action map for content.

Data Subject Objections & Corrections

Data Subjects must receive communication of how the practice dealt with requests for objections against the processing of information OR corrections of personal information.
External Communication
Birthday List
This is a report that is used to send SMS's to patients to congratulate them on their upcoming birthdays so that patients will know they are valued by the practice
Reminder SMSs / Emails
Reminder SMSs / emails can be sent out to remind patients of their appointments, especially those appointments or follow-up appointments that have been made far in advance.
This effectively eliminates most no-shows.
The reminders can be sent every morning or every evening for the next day's visits.
SMSs/Emails can be modified to indicate the necessary documents that patients must bring to complete their files.
Sync Vites - myGC
The syncvite is communication that takes place between two applications (GoodX and myGC), where the system sends out a message to the Patient to join myGC and then waits for a message response before it continues processing. The Patient will then register a profile on myGC, whereafter the Practice will be able to import the Debtor/Patient straight from myGC into GoodX. These are the options to send the syncvites:




Email:

When selecting the Email option, the system will send out an email to the Patient email address with the practitioner's Diary link for them to join myGC.

SMS:

When selecting the SMS option, the system will send out an SMS to the Patient cellphone number with the practitioner's Diary link for them to join myGC.

Email & SMS:

When selecting the Email & SMS option, the system will send out an email and SMS to the Patient email address and cellphone number with the practitioner's Diary link for them to join myGC.

Syncvites are a simple way to reduce the number of clients failing to attend appointments.
It prevents the incorrect capture of Patient information.
Patient Care Coordination Services
What are Healthcare Coordination Services?
Healthcare Coordination services are offered by Health Window.

These services might include:
Care coordination services for improved continuity of care and support of patients;

Making intelligent predictions relating to the need for support and/or consultations with healthcare providers;

Displaying pharmacy dispensing data on the myGC app and sharing it with other healthcare providers.

Where the Patient agrees to it, the pharmacy dispensing data is shared with the Patient's healthcare provider(s) and medical i

nformation is shared with Health Window, who will process the data to deliver the healthcare coordination services.
Which data/information of the Patient is passed on by their healthcare provider and then stored and used by Health Window?
If the Patient agrees to the service, the following data/information is shared with Health Window and/or may be requested from a third party and accessed by Health Window:
The Patient's name, contact details, address;

All prescription(s) with the necessary details on all the Patient's medicines;

All medical information that may include all results, including radiology and pathology (if any), which may also include sensitive information about HIV/AIDS, sexually transmitted diseases or pregnancy and its termination.
If the Patient agrees to the service, their pharmacy dispensing data, inclusive of medical aid information, may be shared with the Patient's healthcare provider(s).
Can the Patient withdraw their consent?
The Patient may withdraw their consent at any time upon which all services will be discontinued and their personal identifiable data removed from the database.
The Patient's information will be stored and used to render the described services until the Patient opts out. The Patient can opt-out or revoke consent by clicking "Revoke Consent" on the myGC app.
How will the Patient's information be used?
The Patient's personal information (as listed above) will be used to deliver the healthcare coordination services only.
Who can see the information?
Only the Patient's healthcare provider(s), staff of Health Window or subcontracted service providers that deliver the services will see the Patient's identifiable information.
Further use of the Patient's information:
Health Window uses the Patient's information in a de-identified, collated manner to give reports to pharmacies and pharmaceutical companies so that they can see, in totals, how many patients used the service, how many reminders were sent and how the adherence rates (i.e. how those patients using the service) differ from those who do not use the service.
No identifiable personal information will be shared in these reports.
Does the Patient have to participate?
The Patient does not have to use this service but will benefit tremendously from healthcare coordination services.
Pathology
GoodX can integrate with Pathologists such as Ampath, Lancet, Pathcare and Vermaak & partners to send a Pathology Request electronically to have a certain problem/disease tested and to get the blood works/test results back electronically.



If the doctor wants to use the Pathology function, it needs to be set up in Settings using the Doctors Mnemonic code.


After the Doctor sent the pathology request for the patient, the pathologist will send the results back electronically and only the Doctor will have access to the results. The results can then be electronically sent to the patient via email and be synced back to their myGC profile.
Telehealth - Video Consultations
Video appointments are there to enable face-to-face communication between the Practitioner and the Patient in different locations.

It is a popular alternative to phone calls for Practices and provides individual Patients with an inexpensive means of consulting/communication with Practitioners.

The Practice will send out an SMS to all patients with a LINK

informing them about the Telemed functionality. If the patients want to book a Telemed appointment they can click on the link.
The advantages of using our Telehealth as a communication medium
:
No transportation time or costs for the patient - When you see your doctor on your mobile device or computer, you can save money on gas, parking, and public transportation. Even better, you don't waste time travelling or risk running into a traffic jam that makes you late for your appointment, or worse, late getting back to work.

Access to Practitioners for Patients With Limited Mobility - For those patients who struggle with travelling to care settings, telehealth can make a significant difference in wellbeing. Senior patients aren't the only people dealing with mobility issues. For younger patients who don't have a reliable means of transportation or who struggle with mobility challenges or disabilities that make travelling difficult, remote access can be a huge quality of life improvement. This is especially true for those living with chronic conditions for which frequent checkups are necessary.
No need to take time off of work - Speaking of work, video visits largely remove the need to take time off. You can simply schedule your visit during a break, or before or after work. You can be anywhere that offers sufficient privacy. You can comply with your doctor's follow-up instructions and maintain your health without missing a day of work or wasting your precious paid time off.

Supports Independence - For many older patients, maintaining independence is a high priority. Telehealth can play an important role in helping people avoid reliance on others and institutionalization.

Delivers Cost Savings - On top of all of its clinical benefits, telehealth can provide financial ones as well.
Less Chance of Catching a New Illness - Where can you be sure to find a lot of sick people? At the doctor's office of course. While everyone does their best to prevent one patient from catching something from another, it is always possible, especially in crowded waiting rooms. By staying home, you get the care you need while avoiding the risk of exposure and the chance that you'll pass your illness on to someone else.

Offers Extensive Telehealth Technology Options - The great news for organizations considering whether to add our telehealth technology to their clinical repertoire is that there are numerous solutions to choose from. For example, a list of the types of telehealth technology that can be helpful to patients with diabetes. These include:

Our DAMA function estimates how much insulin is needed and sends reminders to the patient daily/weekly/monthly.

Our online patient portal (my Grand Central) to view test results, schedule appointments, request prescription refills and email a doctor.



Email, text, and/or phone reminders for preventive care.


Questionnaires, Survey's & Consent Forms
Health

services should be shaped by the needs of the patients they look after and what matters most to them. Our surveys and

questionnaires

enable patients to speak up and

healthcare

providers to listen, as they gather the information that can't be picked up by a stethoscope in an examination.

The

questionnaire

helps to bring forward issues of importance to the patients, which might otherwise not have been mentioned and enhanced a patient-centred approach.


Medical questionnaires

can be given to applicants upfront to find out if there are any known

medical

issues that the Doctor needs to know of.

The questionnaire will also help the Doctor determine how serious the patient's condition is and if they need to be seen immediately or wait in the waiting room.
The main purpose of the informed consent

process

is to protect the patient. A consent form is a legal document that ensures an ongoing

communication process

between you and your health care provider.

Decision making and

consent

places greater emphasis on doctors and

patients

making decisions together based on an exchange of relevant information specific to the individual

patient

. This includes the diagnosis and prognosis. any uncertainties about these, and options for further investigations.



Payment Links
The main advantage of using online payments it helps companies save time, are faster and save maximum effort for the clients.

It helps the Practice in reducing excessive costs involved in physical transactions.

It helps the Practice in reducing the significant amount of paper invoices that will be printed and used to send invoices.
External & Internal Communication
Tasks (Web App) and Tasklist (Desktop App)
Tasks allow users to delegate or communicate important duties to each other.
The Tasks can be used as reminders, eg to phone a medical aid to follow up on a payment or to remind a stock purchaser that the coffee is finished and new coffee must be bought.
In the Web App Tasks can be linked to events, which are specific tasks that need completion on the system. Example: A patient phones the practice for a script. Reception can create a Task for the practitioner, link it to the patient and link it to a script (event) that the practitioner can complete and sign.
In the Web App Tasks are used to process Pathology results.
Tasks can be prioritised with a date of completion to assist the user to prioritise work.
Tasks can be checked as done when finished and they can be delegated to other users for further follow-up.
Internal Communication
Human Resources




Human Resources


The practice manager should report all non-compliance of employees to the Information Officer, e.g. if the ongoing data protection training was not completed as required

.




Internal communication involves communication between top
management
,
management
and employees. Open

and transparent communication is a great way to make sure your employees understand the company's mission statement and that everyone is aligned with the company's values.
Internal communication shares information about the company so employees can perform their jobs well. It keeps people informed. It also works among employees who are interacting with each other in the company. Solid internal communication nurtures company culture and builds employee engagement.
Is important for employees to:

know the company's policies and procedures.

know who is responsible for maintaining the website.
know what internal programs and/or management systems are used in the company and how it works.
get the necessary training on how Patient data must be handled in the Practice.
know the rules regarding Patient data and what they can send to the Medical Aids for authorizations and/or motivations.