Best Practice Guidelines: Healthcare Practice Management
Best Practice Guidelines: Healthcare Practice Management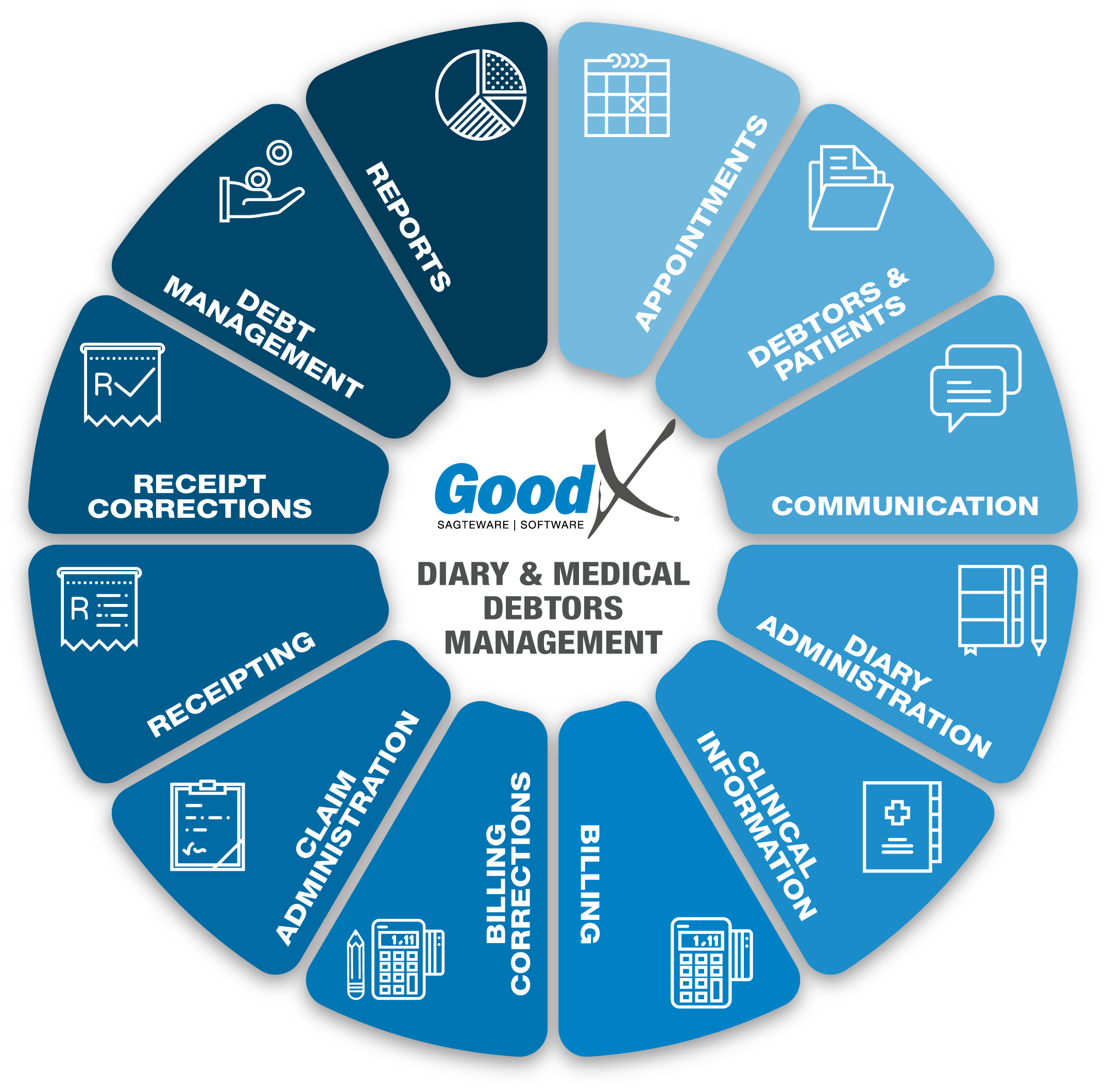 Copyright © 2020 GoodX Software. All rights reserved.
GoodX online Learning Centre
learning.goodx.co.za
5. Communication
Responsible Roles
| | Ensure that all tasks received are completed, eg finalise scripting and review pathology reports and communicate results to Patients. Complete tasks and allocate tasks to the Practice Manager. Add tasks for the Stock Controller to order necessary stock items. |
| --- | --- |
| | Ensure that all communication to and from Patients as well as all internal communication was successfully responded to. Complete all tasks and ensure all tasks of other personnel are done. |
| | Make sure all communication is responded to and all tasks are completed. Send SMS reminders for patients to remember appointments. Send birthday wishes to Patients and ensure all documentation is uploaded and up to date. |
| | Check all tasks on a daily basis. Ensure all communication from the Practitioner was received, understood and completed. Make sure how the practitioner will communicate the codes that should be billed, eg by email, tasks, clinical events or the episode manager. |
| | Use SMS, email and VOIP calls to communication with Patients with outstanding accounts. All communication between the credit controller and the medical aid/patient must be documented and recorded. Complete all tasks. |
| | Minimum & Maximum stock levels report should be used on a daily bases to see if stock should be ordered from Suppliers. Send orders by email to suppliers with the correct item information. Check tasks to ensure all instructions from Practitioners are completed. |

Purpose of Communication
Communication is of utmost importance to convey information
externally to and from Patients, other Practitioners and Suppliers;
internally in the practice between eg the Practitioner and Receptionists for scripts to be done etc.
Communication takes place via
SMSs
Emails
VOIP calls
the Patient Portal (myGrandCentral) between the Practitioner and Patients; and
the Practitioners Portal (grandXchange) between two or more Practitioners.
Critical Steps of Communication
Reminder SMSs / Emails
Reminder SMSs / Emails can be sent out to remind patients of their appointments, especially those appointments or follow-up appointments that have been made far in advance.
This effectively eliminates most no-shows.
The reminders can be sent every morning or every evening for the next day's visits.
SMSs/Emails can be modified to indicate the necessary documents that patients must bring to complete their files.
Birthday List (Desktop App)
This is a report that is used to send SMS's to patients to congratulate them on their upcoming birthdays so that patients will know they are valued by the practice
Tasks (Web App) and Tasklist (Desktop App)
Tasks allow users to delegate important duties to each other.
The Tasks can be used as reminders, eg to phone a medical aid to follow up on a payment or to remind a stock purchaser that the coffee is finished and new coffee must be bought.
In the Web App Tasks can be linked to events, which are specific tasks that need completion on the system. Example: A patient phones the practice for a script. Reception can create a Task for the practitioner, link it to the patient and link it to a script (event) that the practitioner can complete and sign.
In the Web App Tasks are used to process Pathology results.
Tasks can be prioritised with a date of completion to assist the user to prioritise work.
Tasks can be checked as done when finished and they can be delegated to other users for further follow-up.