Best Practice Guidelines: Healthcare Practice Management & POPIA Compliance Framework
Best Practice Guidelines: Healthcare Practice Management
&
POPIA Compliance Framework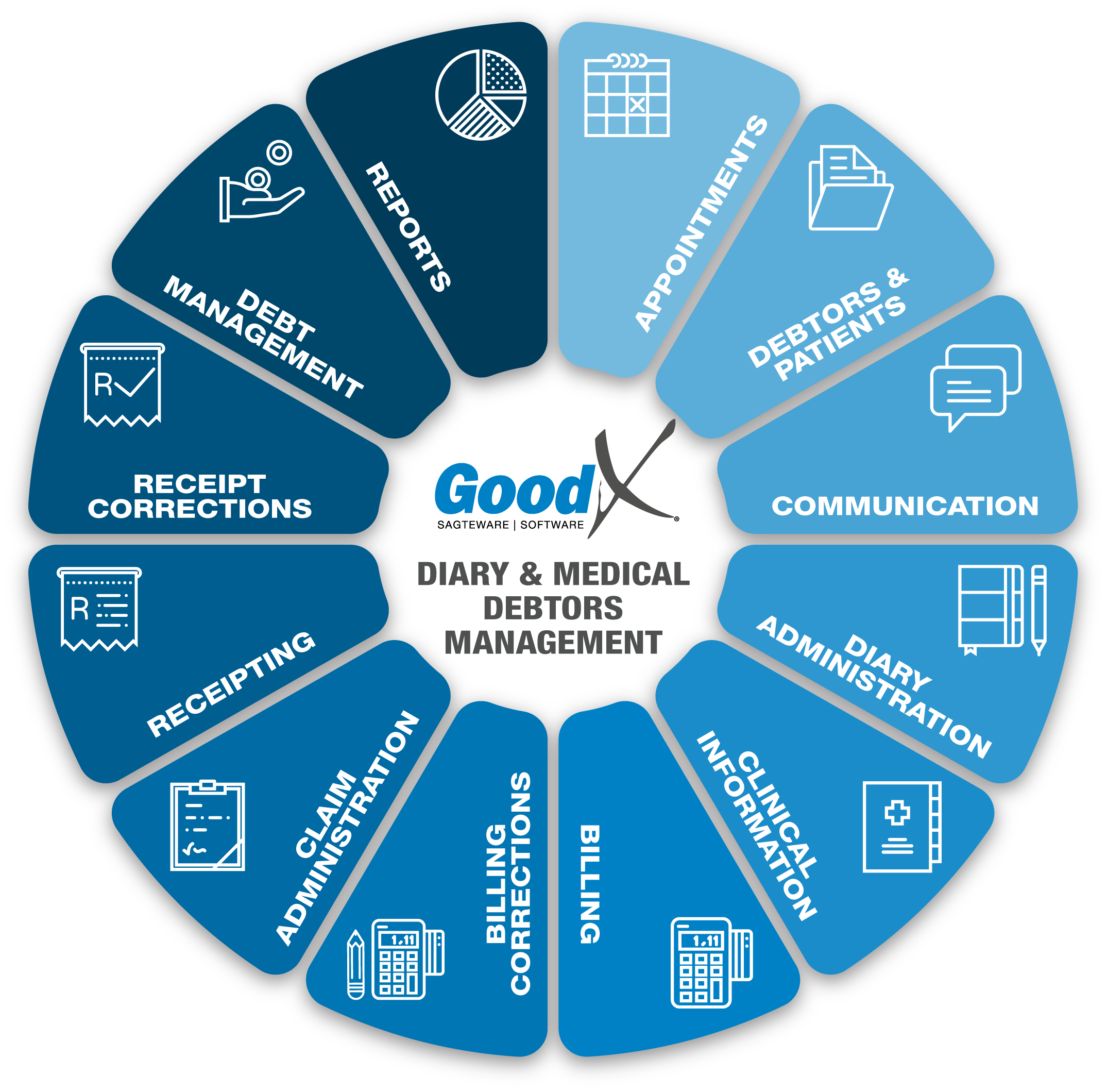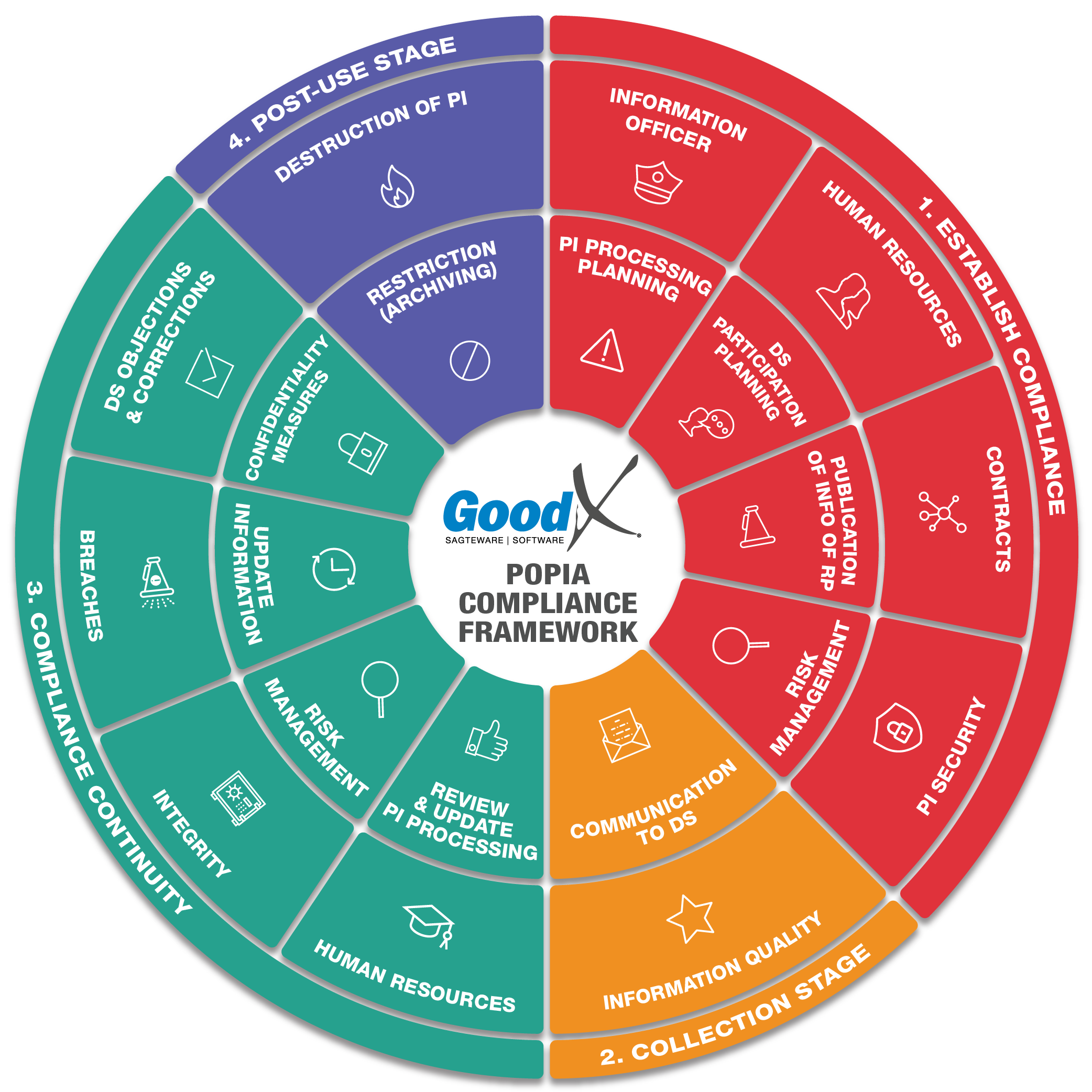 Copyright © 2021 GoodX Software. All rights reserved.
GoodX online Learning Centre
learning.goodx.co.za
2. How to Start your Practice
2.7. Smart Software
INTRODUCTION
Now, in order to run an efficient medical practice, you might want to invest in a complete medical practice management solution. A medical software solution with features that help you manage your practice in a simple and efficient way so that you, as a healthcare professional, can focus on treating your patients.
In this chapter, we will be discussing the different key features of a medical software program that we believe are important for managing your medical practice. You will find that this blog and our previous blog, The Different Roles and Responsibilities in a Successful Medical Practice, go hand in hand with each other.
SMART SOFTWARE
Opt for smart medical software that will help you manage your practice as a whole. This includes the management of your administration, clinical information, and most importantly, your finances. Of course, within these categories, there are many subcategories of features that will have a significant impact on your business.
Take note, that this medical software must comply with the POPI Act. The Protection of Personal Information Act (POPIA) will be mandatory for most organisations in South Africa. Regardless of whether there is a law or not, organisations should be considering what personal information they capture, manage and store, and how best to secure this.
Select a software partner that stays up to date with industry standards and laws as well as one that strives to include the latest technology and developments like facial recognition and voice to text technology and is growth-focused.
PRACTICE MANAGEMENT FEATURES
Take a quick look at the table below where we have organized the key features of smart medical software:
*See link to HPCSA Guidelines for Paperless Record Keeping.
ADMINISTRATIVE MANAGEMENT
Administration can be different from one medical practice to the next and can include a wide variety of features necessary to complete specific responsibilities. Contrary to popular belief, the administration is not only the receptionist's responsibility.
The other possible roles that will be using administrative management features would be the practitioner self as well as the practice manager. From checking the diary's schedule to completing tasks, etc.
To assist you in what administrative management features one should look for, we have compiled the following list:
Diary Management: easy to navigate diary, with flexible diary timeslots, customisable diary set up according to the practice's needs, theatre management, and the ability to make online bookings.
Switch Management: debtor/patient data import through medical aid and/or a patient portal, patient validation, benefit checks, claim submission and management, electronic remittance advice (ERA) management, and reports.
Client Relationship Management (CRM): simple and efficient communication to clients through SMS' and/or E-mails.
Task Management: make medical office management more effective and convenient by the use of tasks that can be assigned to the software users.
Reports: ability to pull daily, monthly, and yearly reports as well as creating custom report templates.
CLINICAL MANAGEMENT
With clinical management and the features thereof, it will be the practitioner, who is legal, the only person allowed to complete and access clinical/medical information about patients.
Here are some key clinical management features that one must look for in medical software:
Electronic Medical Records (EMR): paperless capability; this includes various clinical notes of patients that can easily be accessed electronically.
Pathology: easily do electronic pathology orders and receive electronic results.
Media: be able to upload photos, images, documents, and more.
Customisable: the ability to create customisable clinical templates to best fit your medical practice's needs.
Reports: the ability to pull clinical reports.
Disease Administration Management Assistant (DAMA): A tool to help the practitioner with the administration of patients with diseases that require the practitioner to follow-up with the patient.
FINANCIAL MANAGEMENT
The practitioner, practice manager, billing expert, credit controller, and lastly, the bookkeeper are responsible for the financial management of a practice.
Here are some key financial management features that one must look for in a medical software program:
Optimised Billing: sophisticated multiple price lists and billing groups according to your speciality to optimise turnover. This price list needs to include material and medicine billing as well as easy to use and powerful ICD-10 diagnosis coding.
Transactions: have all your transactions in one place – a fully integrated financial/accounting system; from billing, receipting, journals, corrections, claims, and ERA management.
Treatment Planning and Estimates: the ability to provide a view to set up multiple visit treatment plan with billing. Print multi-visit treatment plans and corresponding fee estimates and bill as work gets completed.
Credit Control: a sophisticated credit controller to minimize bad debt, lower the cost of debtor management and provide critical business information.
Reports: pull daily, monthly, and yearly reports as well as creating custom report templates.
KEY CHARACTERISTICS
There are some basic characteristics which a medical software must have to ensure that you as a healthcare professional are investing in a quality system that will help your medical practice grow.
COMPLETE MEDICAL PRACTICE MANAGEMENT SOLUTION
Getting software that is a complete and unified application that incorporates each role in practice will better help manage the medical practice in terms of communication, productivity, and finances.
WEB-BASED
Access your data from anywhere, anytime from any device. A medical software solution that provides remote, safe storage and access to all your data via the internet.
ELECTRONIC MEDICAL RECORDS
Implementing an EMR system increases the medical practices' productivity and the quality of medical care given to patients. This improves patient care by a reduction in medication errors and duplicates or unnecessary pathology tests.
EASY TO USE
A medical software solution must be fast, easy, and intuitive to use to ensure a good experience with managing your medical practice.
CUSTOMISABLE CLINICAL TEMPLATES
Customise your clinical templates to fit your practice type, workflow and preferences. It's a faster, simpler way to capture patient data according to your specific requirements, giving you software that fits your practice.
PAPERLESS CAPABILITY
Manage a more efficient medical practice by eliminating clutter and paperwork that slow down day-to-day activities.
FULLY INTEGRATED DIARY
Fully integrated diary for a faster reception with an intuitive layout and navigation. Better yet if this diary is customisable to the users and medical practice.
PATIENT PORTAL
A medical software system that is making use of a patient portal will make it convenient for both healthcare professional and their patients. Self-help and self-service system helps improve the workflow at a practice.
CLAIM ADMINISTRATION
Cash flow is of vital importance to the health of a practice. One way of optimising the cash flow is to manage your claims as quickly as possible in terms of addressing rejected claims and claim payments.
CONCLUSION
To end off, investing in a smart medical software system will surely be of benefit to you and your medical practice. The challenge comes when choosing medical software that best suits you and your medical practice's needs, boosts your productivity and revenue.
Take note, even though this medical software that you choose is user-friendly and easy to navigate, paying attention to its features and getting the proper training on how to use the software will surely assist you and your staff in the long run by using the features most effectively.