Best Practice Guidelines: Healthcare Practice Management & POPIA Compliance Framework
Best Practice Guidelines: Healthcare Practice Management
&
POPIA Compliance Framework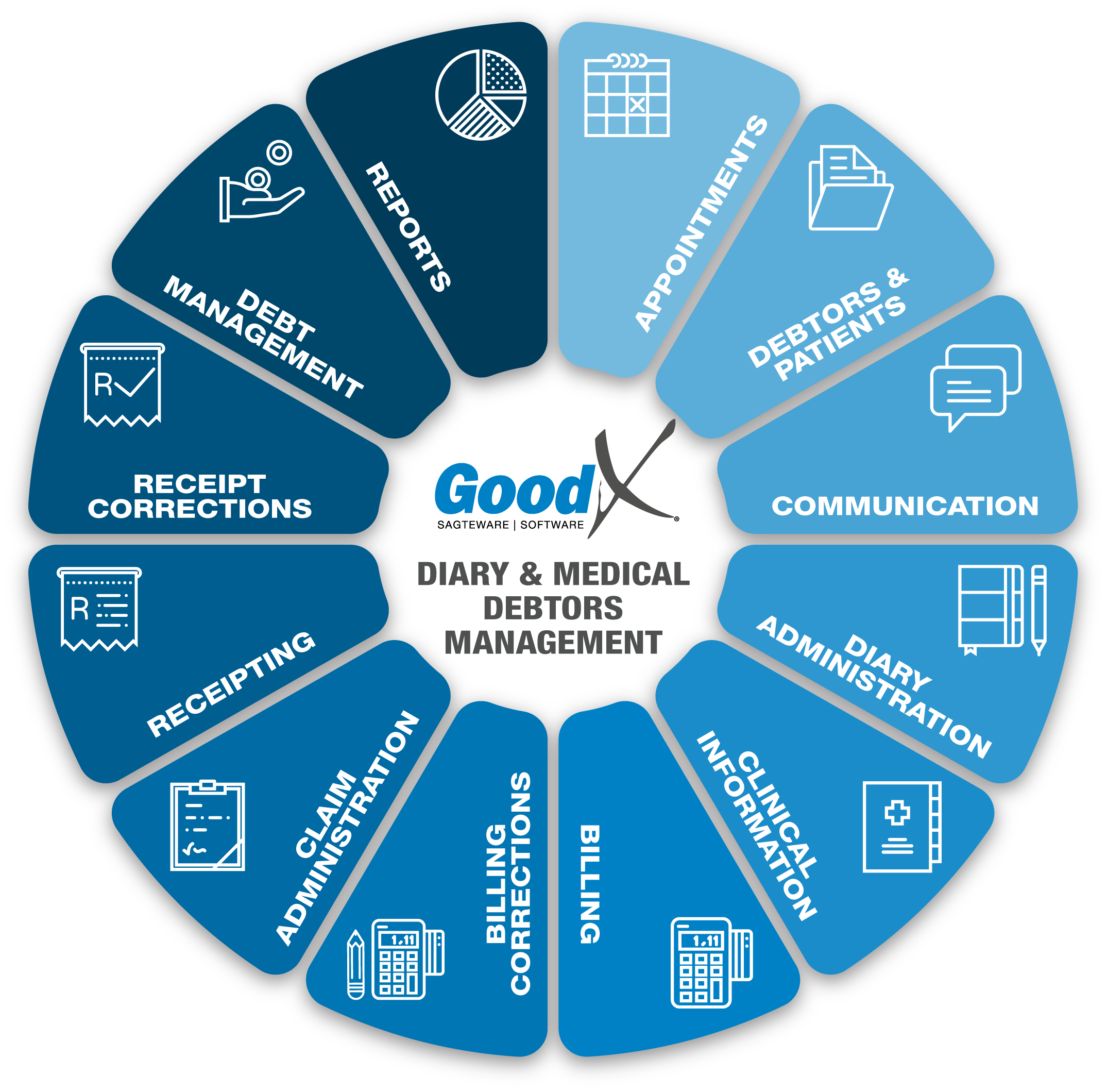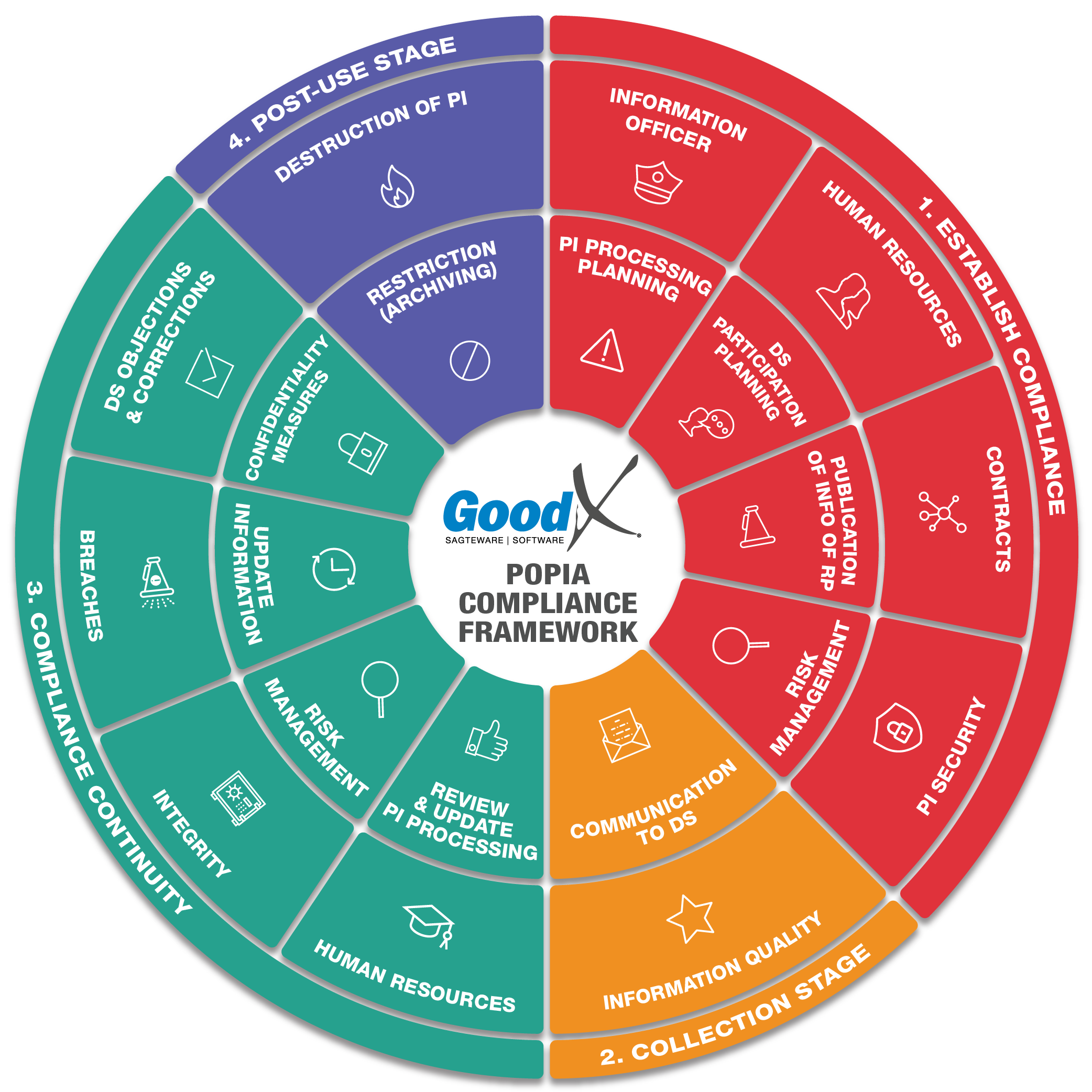 Copyright © 2021 GoodX Software. All rights reserved.
GoodX online Learning Centre
learning.goodx.co.za
2. How to Start your Practice
2.3. Registrations and Legislation
As part of How to Open a Medical Practice in South Africa, there are a few things you need to do before opening your medical practice. We will give you a quick guideline of where you need to get registered in South Africa before you open your doors.
GET REGISTERED
As mentioned before, a practitioner with their own medical practice needs to comply with a few national and governmental requirements. We will discuss the following:
THE HEALTH PROFESSIONS COUNCIL OF SOUTH AFRICA (HPCSA)
WHO & WHAT
The Health Professions Council of South Africa (HPCSA) is a necessity for professional practice as well as a legal requirement to keep all personal details frequently updated. The HPCSA consists of 12 Professional Boards that are committed to promoting the health of the population.
WHY
"The Council guides and regulates the health professions in the country in aspects pertaining to registration, education and training, professional conduct and ethical behaviour, ensuring continuing professional development, and fostering compliance with healthcare standards."
"All individuals who practise any of the health care professions incorporated in the scope of the HPCSA are obliged by the Health Professions Act No. 56 of 1974 to register with the Council. Failure to do so constitutes a criminal offence."

https://www.hpcsa.co.za/About
HOW
There are different registration and annual fees with the HPCSA's 12 Professional Boards. The annual fee must be paid before 1 April and will then be valid until 31 March the next year. Registration fees are payable by persons to be registered in terms of the Health Professions Act No. 56 of 1974.
There are nine main registration categories (take note that not all categories apply to all professions) from students to a sub-specialised practice. On the HPCSA's website, you will find detailed reference guides for the registration requirements of each of the 12 Professional Boards.
You can find all the application forms from the HPCSA's Application Forms link. Take note that each of the 12 Professional Board's requirements can vary from the other. Click on one of them to be navigated to their guidelines and registration requirements:
CONTACTS
If you require more information, you can visit their website or get into contact with them via email at info@hpcsa.co.za or telephone at (+27) 12 338 9300.
BOARD OF HEALTHCARE FUNDERS (BHF) & PRACTICE CODE NUMBERING SYSTEM (PCNS)
WHO & WHAT
The Board of Healthcare Funders (BHF) is a representative organisation to which medical schemes may voluntarily belong to. Their vision is "a private healthcare funding system that ensures lifetime access to comprehensive and affordable healthcare for the average working person."
The BHF membership consists of the majority of medical schemes in Southern Africa which includes Botswana, Namibia, and Zimbabwe. To get a complete list of their members, click on this link.
The Practice Code Numbering System (PCNS) of BHF is a list of unique codes for health care service providers in South Africa, Lesotho, and Namibia.
WHY
Why a practice number? A practice number is assigned to all registered healthcare service providers. It's essential to have a practice number when claiming from a medical scheme.
"This is in accordance with the requirement of the Medical Schemes Act 131 of 1998 wherein it is stated that a medical scheme may only reimburse a member or a provider of relevant healthcare services for services rendered against a valid practice code number."

http://pcns.bhfglobal.com/application-a-practice-number
In order to accelerate payments of accounts from Medical Schemes and the Road Accident Fund, you'll need a PCNS number from the BHFSA as a practitioner, practice, or agency.
HOW
"To obtain a practice number, it is required that the healthcare service provider be registered as an independent practitioner with the relevant statutory council and that the healthcare service provider's scope of practice is recognised by the BHF."
Before completing the form, here are the Legislation Requirements regarding a PCNS number. The different application forms for the PCN can be found on this link. The application form, once completed, should be returned to their offices by registered mail or overnight courier, together with your registration fee.
After you've completed the application process, you will receive a practice number, which you'll need to attach to all your communications. Take note that it can take up to 10 working days or longer for a practice number to be issued, provided that all the documentation is accompanied by the application form.
Once the practice number has been issued, all medical schemes on the PCNS database are notified electronically. Your registration should be renewed by the 31st of January of every new year.
This is optional but we do recommend that once you've completed this whole process and received the practice number that you call BHF and major Medical Scheme Administrators (such as MHG, Medscheme & GEMS) to confirm that you are on their database.
CONTACTS
If you require more information, you can visit their website or get into contact with them via email at clientservices@bhfglobal.com or telephone at (+27) 86 130 2010.
REGISTER WITH MEDICAL AIDS
WHO, WHAT & WHY
There are some medical aids that are not members of the BHF and will require manual registration from you as a practitioner. For example, Discovery is one of the biggest medical schemes, yet they are not a member of the BHF.
It is your responsibility to go through the BHF's members list and identify which medical schemes you need to register at, other than Discovery. In this blog, we will be using the Discovery registration process as an example.
HOW
Discovery practice registration process: To register your practice number with Discovery to be able to claim, you need to send a clear ID Copy and BHF or PCNS form of the practice to Provider_Administration@discovery.co.za or fax it to (+27) 11 539 1039.
Together with your practice registration, you need to provide Discovery with your banking details for direct payments. You need to complete a banking details form, include a clear copy of your ID, practice letter with letterhead, and any ONE of the following:
Original cancelled cheque, or
Original certified copy of the original letter with an original stamp from the bank (an official letterhead) indicating the account holder's name, account number, account type, and branch code, or
Original or certified copy of the original bank statement with an original bank stamp that confirms the account holder's name, account number, account type, and branch code.
The following is optional, but you can choose to add anyone as your practice manager (web access) to make any changes or request information on the practice. If you choose to do so, you need to provide clear ID copies of the practice owner and personnel to be given access.
Together with this, you need to complete and sign the Web Access form and send it to Provider_Administration@discovery.co.za or fax it to (+27) 11 539 1039.
Discovery asks that you hand-deliver or post the original banking details form together with the required attachments by registered mail to the attention of the Health Professionals Department at Discovery Health, PO Box 784262, Sandton 2146.
CONTACTS
If you require more information about the Discovery's registration process, you can visit their website or get into contact with them via email at healthpartnerinfo@discovery.co.za or telephone at (+27) 86 044 5566.
SOUTH AFRICAN PHARMACY COUNCIL (SAPC)
WHO, WHAT & WHY
In South Africa, certain healthcare professionals such as doctors and nurses who wish to dispense medicines are required to obtain a licence accredited by the South African Pharmacy Council (SAPC) after successfully completing a dispensing course.
HOW
You can click on this link to be navigated to their process flow (guidelines) for licence application which can be found on their website's Legislation & Recording section.
CONTACT
If you require more information, you can visit the SAPC's website or you can contact their Customer Care department at (+27) 86 172 7200 or send a request on this link.
CONCLUSION
Now you know where you need to register your practice before you open your doors. It will be your responsibility to get into contact with these organisations and complete their registration processes. In the next blog, we will focus on buying versus renting your practice space as well as the importance of its location.