Best Practice Guidelines: Healthcare Management Internal Controls
3. Weekly internal controls summary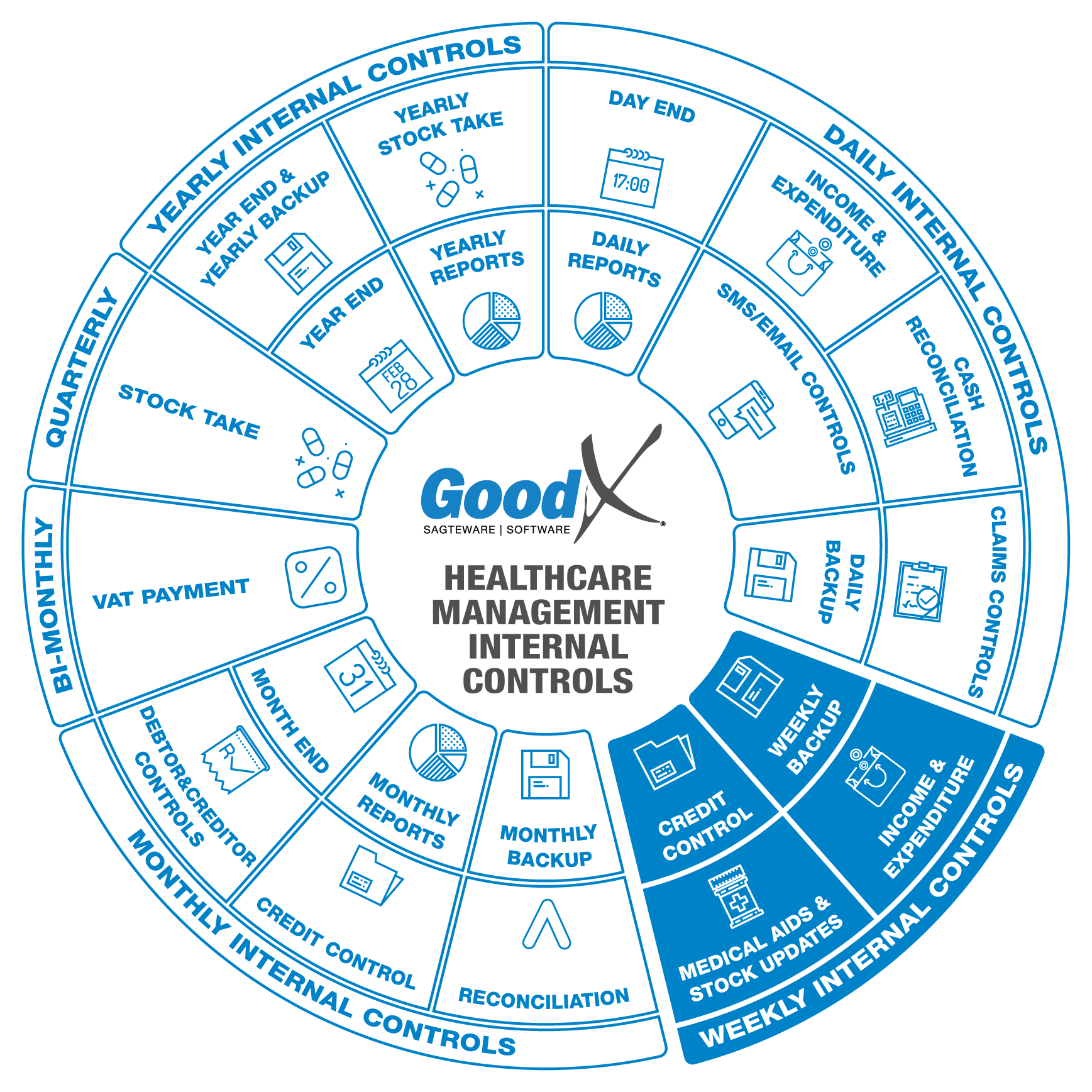 There are some steps to be taken weekly to ensure financial, stock and data accuracy and to do credit control.
The following tasks and reports will be discussed pertaining to daily controls:
Income & Expenditure
Income and Expenditure controls must be done on a weekly basis to ensure sound cash flow and unexpected expenses to be managed.
The following checks are to be done weekly on debtor accounts:
Invoices outstanding
Payment plan follow up (If the practice is using this function)
EDI Responses
Unlinked Receipts
Refunds
Electronic Remittance Advice received and posted
Weekly creditors and stock checks to be done:
Invoices outstanding
Credit Notes / Debit Notes
Stock Control
Weekly Accounting checks to be done:
Bank Statement imports
Allocations to ledger accounts and Auxiliary cashbooks
Medical Aids & Stock updates
As the medical industry changes with regards to medical aids, medical aid administrators and stock items and prices, it is important to keep the software data up to date mainly for billing and switching purposes. Updates are done by running new files from either Medprax or IQest (depending with whom the practice is contracted to receive its updated industry information) or to do manual updates in the software.
Medical aid updates will include information on the medical aid schemes and administrators and routing codes used for switching purposes.
Stock updates will include important information on medicine and materials, discontinued items, prices and Nappi codes.
With cycle counts stock is kept up to date and any mistakes or process faults will be investigated and processes can be put in place to prevent further stock losses.
Item Management
Item Management is an ongoing process. Most of the daily controls of item management will be done on a daily or weekly basis depending on the size of the practice. Best practice will always be to complete the work on a daily basis and the controls on a weekly basis. Please refer back to the daily controls.
Update Medprax excluded items:

Update Markups
Credit Control
Credit control is the process by which the practice follows up on overdue debtor accounts. The credit control process is divided into cycles so that different actions are taken during the different phases of the process, eg
after 30 days, the debtor will be contacted via SMS / email / telephone call;
after 60 days the debtor will receive a final letter of demand;
after 90 days the debtor will be handed over for legal debt collection.
The credit control process will be different for Medical Aid outstanding accounts and Private Patient outstanding accounts. If medical aids do not pay outstanding accounts and the switch response does not indicate a decline of payment, the practice will follow up with the medical aid why payment has not been processed. Once the medical aid responds with a decline of payment, the outstanding account will be moved to indicate that the invoice is due by the patient and the debtor will be contacted for payment.
The following functions and reports can be used for credit control purposes:
Age Analysis Report
Communication (SMS, Emails, Telephone calls)
Notebook
The Credit Control Assistant
The Credit Control Assistant is a function in GoodX that automatically guides the credit controller through the credit control cycles. The credit control cycles can be customised to meet the practice's requirements.
Credit control is important to ensure that outstanding accounts do not turn into bad debts to be written off.
Weekly Backup
Confirm backups are being made and copied to external sources that are kept off site.
Please read the GoodX Learning Centre (IT & Technical > Data Management) for a proper understanding of the best practice backup regime.
GoodX Web App and Cloud clients' backups are completed and safely stored by GoodX to alleviate the burden of keeping up to date backups by the practice.