Best Practice Guidelines: Healthcare Management Internal Controls
2. Daily internal controls summary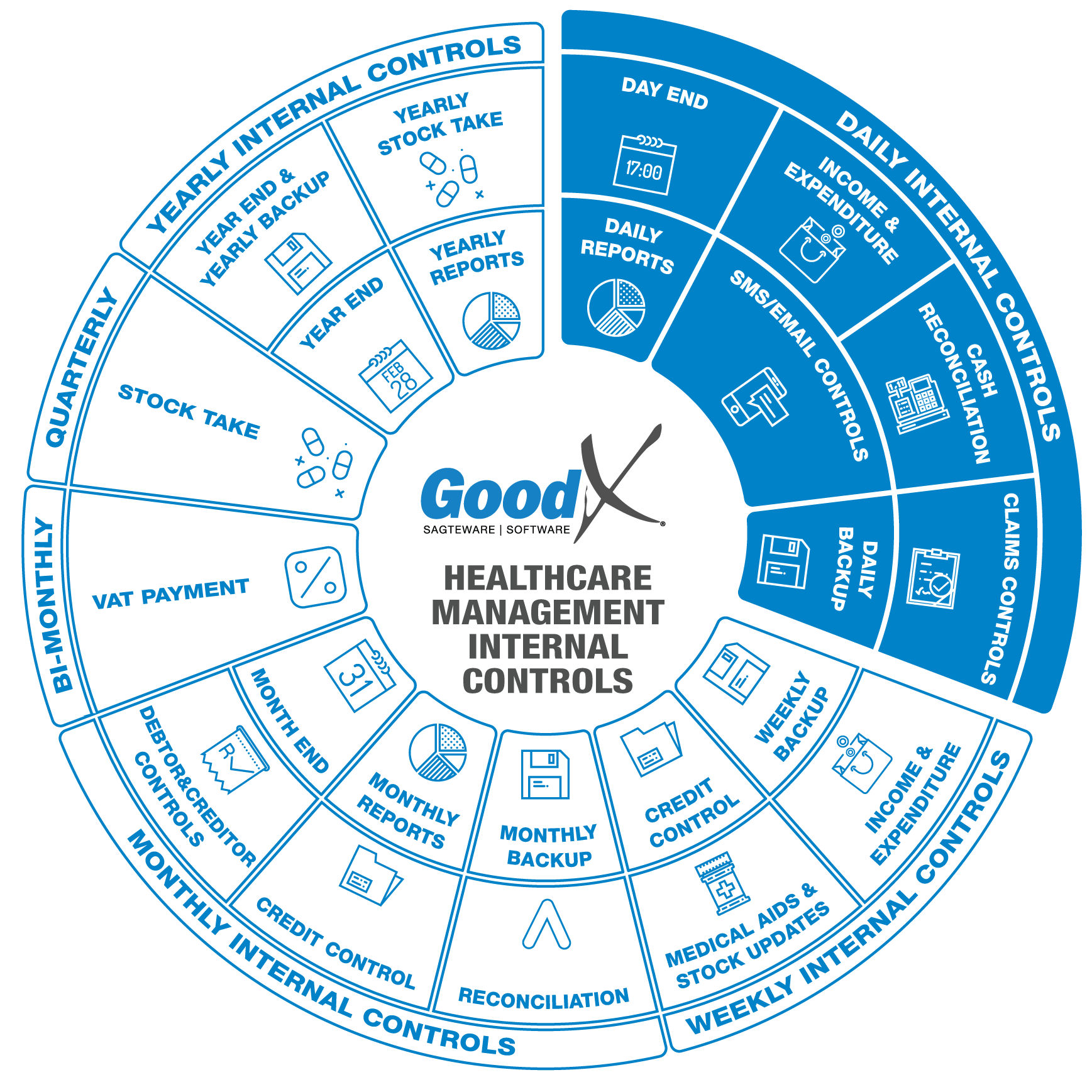 With daily controls in place, you can check to see if the daily flow of patients through your practice has been captured in your system. All transactions for the day can be analysed and cross-checked to ensure their accuracy and validity.
Completing daily checks will assist the practice manager to have correct and updated information on the system and will, therefore, prevent a backlog in corrections that will for example negatively influence the cash flow in the practice.
The following tasks and reports will be discussed pertaining to daily controls:
Day End
Close cash register sessions.
Confirm that all billing has been checked, posted and switched.
Check non-invoiced bookings.
All creditor queries have been dealt with and invoices have been filed.
Item management.
Stock orders.
Transfers up to date.
Broken stock adjustments.
All assets have been updated on the asset register.
Income & Expenditure Controls
Make sure all patients visiting the practice during the day were invoiced.
Make sure all invoices were paid or switched before patients left the practice.
Make sure all the treatments and payments received were captured on the system.
Make sure all creditor invoices and payments have been captured.
Make sure all stock used has been billed on the patient accounts or billed as a non-chargeable.
Make sure all bank account statements have been imported and allocated.
Cash Reconciliation
Confirm your cash and card entries reconcile with your Cash Bin, Bank Account or Petty Cash.
Confirm that the Petty Cash reconciles with the expenses and the income.
Claims Controls
Confirm your claims have been submitted and corrections have been done.
Confirm all rejections have been followed up.
Daily Reports
Confirm all daily reports have been printed or saved and have been sent to the correct manager/practitioner.
Confirm all information on the Daily reports are correct and complete.
SMS / Email Controls
Confirm SMS have been delivered and patients' emailed statements did not fail on sending.
Make sure the SMS replies have been dealt with.
Daily Backup
Confirm backups are being made and copied to external sources that are kept off-site.
Please read the GoodX Learning Centre (IT & Technical > Data Management) for a proper understanding of the best practice backup regime.
GoodX Web App and Cloud clients' backups are completed and safely stored by GoodX to alleviate the burden of keeping up to date backups by the practice.